above: Sophomores doing a last minute check before boarding at Pier 101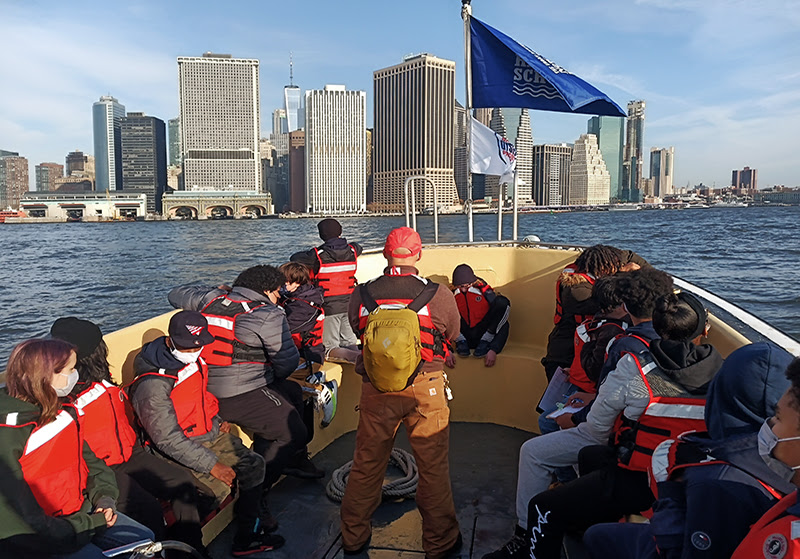 above: Sophomores sailing out to the data/specimen collection point
Marine Bio Junior Sebi 
Koko
 explains, "In the picture above you can see the sophomore students lowering beta bottles into the water, which are cylinders that sink to the depth you want in order to collect the water sample."
Sebi continues, "In the picture above, some juniors are lowering a Neuston Net into the water. In the picture below, the net is capturing water particles just south of the Brooklyn Bridge. The Neuston Net is also called a Manta Tow, and you can see why as it resembles a Manta Ray swimming on the water's surface."
above: Just before the Senior's boat trip,
Mauricio shows students how to
adjust a Flow Meter in the Marine Bio Lab.
Sebi explains more, "In the picture above,
seniors rinse down the net from the Manta Tow
to collect all material that was captured. Below,
seniors transfer material into a collection cup.
Later, back in our lab, we analyzed the samples
and found plankton, algae, detritus and
sadly, a lot of micro-plastics."
Please help our students to be able to continue doing
exciting projects like this by donating at  Cheddar Up  
Every little bit helps! Thanks
Thanks to Principal Jeff
and all the parents that
attended our first Marine
Bio Parent's Zoom Meeting
last month. It was nice to
meet and share. Our seniors
are busy with the college
application process right
now. Parents of juniors and
sophomores asked for
college info, as it is never
too soon to start planning.
We are including some links
below. Please share info
you have that our families
may be interested in.
Comments? Questions?
Contact your Marine Bio Reps
Tricia Garcia & 

Koko

 at
marinebio@kokobaz.comThanks to Angie Martinez,
Nan Richardson and Tricia Garcia
for pictures and content.

Design by Koko   www.kokobaz.com